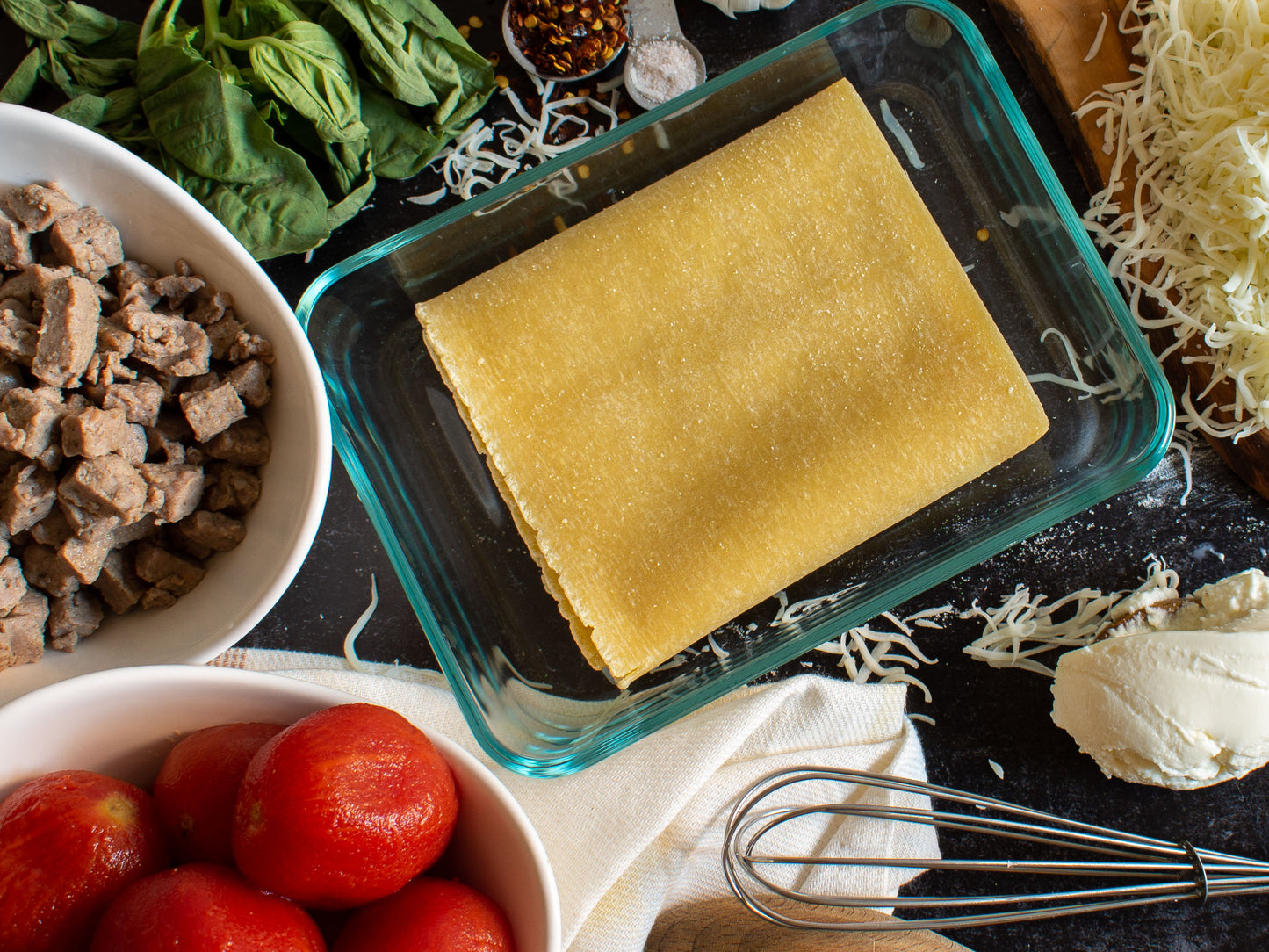 You can click here to jump directly to the recipe, though there are some words between here and there I hope you find useful.
SHOPPING / INGREDIENT LIST
Ricotta
Dried oregano
Shredded mozzarella
San Marzano tomatoes
Garlic
Crushed pepper flakes
Parmesan, grated
Italian Sausage
Fresh basil
Kosher salt
TAKE YOUR LASAGNA UP A NOTCH 
So one evening, I was getting prepared to make an easy lasagna recipe and decided to deviate from the traditional layered style. Instead, I opted to create mini lasagna rolls. Why? Why not? That's part of the fun of cooking, taking tradition and mixing it with inspiration.
My favorite thing about this style is that each piece is complete and is much easier to serve...and it just looks cool. Don't get me wrong. I enjoy a beautifully layered pasta creation, but the challenge is waiting long enough for it to cool down so it doesn't fall apart. Your beautiful lasagna slipping off the spatula, leaving a trail of pasta layers and cheese and sauce from the pan and splattering onto the countertop can be a bit of a letdown. We've all been there, right?
This recipe uses classic ingredients and can easily be adjusted. Want to add spinach for some more green? Just sauté it first and add it with the ricotta. Prefer vegetarian style? Skip the meat and replace it with sliced fresh mozzarella. To amplify the flavor of the cheeses, try adding shredded gruyere or fontina to the mozzarella.
RECIPE FOR LASAGNA WITH RICOTTA, MOZZARELLA & SAN MARZANO TOMATOES
Serves 4 entree portions or 8 side portions.
PANS AND UTENSILS
Medium saute pan
Large pot
Long handle strainer/sieve
3 mixing bowls
Baking dish
Wooden spoon
INGREDIENTS
8 ounces Della Terra Lasagna Sheets*
16 ounces ricotta (select a ricotta that has a finer, spreadable texture)
1 teaspoon dried oregano
6 ounces shredded mozzarella
28 ounces of San Marzano tomatoes, hand crushed
1/2 teaspoon kosher salt 
2 clove garlic, finely minced
1/2 teaspoon crushed pepper flakes (optional addition)
1/2 cup parmesan, grated
8-10 ounces Italian sausage, cooked and crumbled
4 to 5 leaves of fresh basil, cut or torn
TO BLANCH OR NOT TO BLANCH
The lasagna is thin and pliable, so you can just use it out of the package to assemble the rolls or layers and skip the blanching step. This is usually a good way to speed up a lasagna dinner as the sauce helps cook the pasta as the whole dish bakes. There's only one real issue with this technique: if it's not baked enough, the middle can be gummy which is not awesome.
Blanching the lasagna has an advantage; it is easier to work with and you know the noodle itself is already cooked. It also makes it possible to assemble the dish a day or two ahead of time and bake later.
METHOD FOR BLANCHING THE PASTA
Bring 4 quarts of water to a boil and add 2 tablespoons of kosher salt. Cook the pasta for about 1 minute.
Using the sieve, remove the cooked pasta and set it into a bowl.
Toss the sheet in a little olive oil and lay flat to cool to room temperature. Set aside to use later.
PREPARING THE INGREDIENTS
Gather all the ingredients and make sure each item is fully prepared before trying to start assembling.
Cook the sausage in a saute pan over medium-low heat as you gather and prepare the other ingredients.
In a bowl, combine ricotta, oregano and half of the parmesan; set aside.
In a bowl, combine the hand-crushed tomatoes then add the salt, pepper flake, and garlic; stir together and set aside.
Set aside 1/4 cup of shredded mozzarella for later.
Slice the sausages into 1/4 inch thick slices.
ASSEMBLE THE LASAGNA ROLLS
In a 9x9 baking dish place 2/3 of the tomato mixture evenly in the pan.
Arrange the lasagna noodles vertically on a large cutting board or the counter top.
Dollop and spread 1/3 cup of ricotta onto each sheet and spread evenly.
Next, sprinkle mozzarella evenly.
Do the same with the sausage (and any other ingredient you may want to add).
Starting at one end, begin to roll the pasta like a pinwheel.
Slice into 4 even pieces.
Set upright into the pan and distribute the pieces evenly.
Repeat until each piece is complete and placed into the baking dish. Leave a little space in between each piece.
Spoon the remaining sauce evenly over the pasta rolls.
THE BAKE
Preheat the oven to 425F.
Cover the pan with foil; set onto the middle shelf and bake for 30 minutes.
Uncover and sprinkle the remaining cheese evenly. Bake for another 10 to 15 minutes to let the cheese brown a little.
Remove from the oven when it looks bubbly, golden, and delicious.
COMPLETE THE DISH
Let the baked pasta rest for at least 10 minutes before serving. 
There's no need to cut the lasagna! Just use a spoon to remove the "mini" lasagna from the pan to the plate.
Garnish with extra basil and a drizzle of olive oil and Parmesan if desired.
Serve, enjoy, and eat well!
*SUBSTITUTIONS
While the recipe was written with our Fresh Lasagna in mind, our Rigatoni or Casarecce are good choices for a baked pasta. Just make sure to cook the dried pasta to al dente before combining the ingredients into the baking dish.