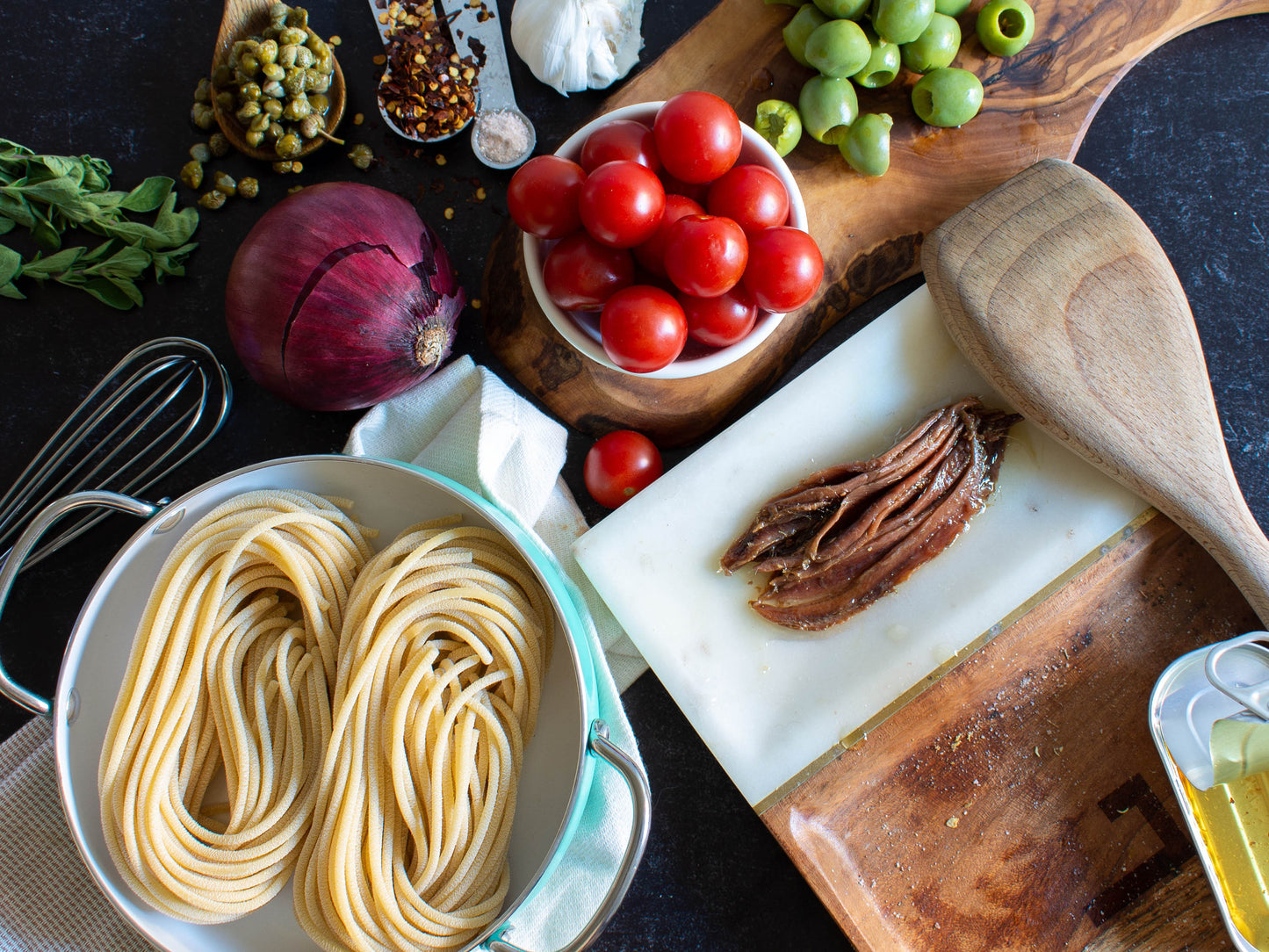 You can click here to jump directly to the recipe, though there are some words between here and there I hope you find useful.
SHOPPING / INGREDIENT LIST
Della Terra Spaghetti *substitutions* Squid Ink Casarecce

 or 

Fusilli
Extra virgin olive oil
Garlic
Red onion (optional)
Anchovy fillets
Crushed red pepper flake
Cherry tomatoes (If in season, use fresh petite and ripe tomatoes; if not, use canned cherry tomatoes in sauce)
Capers
Olives (Kalamata is a great choice)
Fresh parsley
Kosher salt
BOLD FLAVORS AND STYLE 
Spaghetti alla Puttanesca is what you cook when your larder is getting bare and you have a handful of pantry items left, but you want a dish that is bright and full of flavor.
There are plenty of origin stories about this dish, and based on which specific tradition you prefer, the ingredient list will vary. That said, there are also a couple of agreed-on ingredients that shouldn't get used: forget the basil or parmesan (or any cheese for that matter). In general, you don't use cheese when the pasta recipe calls for any kind of seafood. And the basil? Well, probably because oregano tastes better in this style of sauce. While I don't call for oregano in this recipe, if you like it, add it.
There are two ways of making this dish that I love; one is based on high heat and very quick cooking, and the other lightly simmers together as the pasta finishes cooking. Alla Puttanesca is a dish that puts emotion into flavor. The fast version is done very quickly in a hot pan, allowing the garlic and onion to lightly brown rapidly, the pepper to release its spiciness into the oil, the tomatoes to sizzle rapidly, and the bursts of intense caper and olive to create flavors that stand out and pop. The slower version releases and develops the flavors in layers, creating something that is comforting and smooth like a jazz melody. The only technical differences are temperature and time between the steps, but I will say that it is crazy easy to burn the garlic in the fast version, so if you go with the fast version - be alert.
A few notes about the must have ingredients since they are what brings the sauce to life:
Capers come in two forms: in brine or salted.

Capers in brine require a quick rinse and have that typical "caper" flavor that has a subtle pickled undertone. Since I don't cook with capers everyday at home, I usually have a jar of these in my fridge.
Salt-packed capers have tremendous flavor, but you need to rinse them well and soak in water for a couple days to temper the saltiness; if you plan ahead, it will be game on caper-style.

There are so many kinds of olives to choose from. With olives, it's more of what you like and less of a "it has to be exactly this". That said, there are two types I'd suggest going for:

Kalamata olives. Yes, these olives are from Greece. They are a delicious, go-to addition that are neither too salty or intense.
Gaeta olives are smaller in size and have a milder flavor. They are a great all around choice for pastas and snacking.

Tomato brings the sauce together, but not all tomatoes are good choices. Cherry tomatoes provide great acidity to the dish which is important because with the salty (olive & caper) it's important to have balance.

Fresh petite summer tomatoes are a good choice. Make sure they are ripe with tender skins; cut them in half and very lightly salt them in a bowl to let some juice start to release.
Canned cherry tomatoes in sauce should conveniently be on hand in the pantry and pretty much ready to go. For an extra step in refining your dish, pick out the tomato skins and discard.
RECIPE FOR SPAGHETTI "ALLA PUTTANESCA" WITH CAPERS, OLIVES, ANCHOVIES & GARLIC
Serves 2 entree portions or 4 side portions.
PANS AND UTENSILS
medium saute pan
large pot
long handle strainer/sieve
wooden spoon
INGREDIENTS
8 ounces fresh Della Terra Spaghetti* or 6 ounces Della Terra Fusilli
2 tablespoons extra virgin olive oil
2 cloves of garlic, thin slice
1/4 cup red onion, small dice
2 filets anchovy
Crushed red pepper flake
1 cup cherry tomatoes (see notes above about tomatoes)
1 tablespoon capers
2 tablespoons olives, pitted and cut into fourths
1 tablespoon fresh parsley, chopped
METHOD FOR THE SAUCE - NORMAL SPEED VERSION
In a room temp saute pan, add the onion and garlic and turn the heat to medium/low heat. The pan will begin to heat up; stir the mixture every so often until it is translucent.
Add the pepper flake and anchovy to infuse into the oil; you'll need to "chop" the anchovy a bit to help it melt into the sauce.
Add the tomato, capers, olives, and parsley; swirl it through the pan and bring to a simmer and reduce slightly. When the sauce seems about right, turn off the heat.
METHOD FOR THE SAUCE - FAST VERSION
Every ingredient must be fully prepared and be readily available to add to the pan. From the point that you add the oil until the tomatoes stop cooking, keep the pan moving like a saute chef on the hotline in a restaurant.
Heat the pan to medium heat; it should be hot (but not full blast hot which is too hot and will burn everything almost instantly).
Add the oil and swirl to make sure it's hot; immediately add the onion and garlic. It should sizzle loudly and develop some color quickly. The goal is to quickly "caramelize" the onion and fully toast the garlic.
As soon as you have a toasted garlic aroma, remove from the heat and immediately add the pepper flake and anchovy to infuse into the oil.
About 15 seconds later, add the parsley (which should pop and sizzle).
As soon as the parsley sizzle stops (about 10 seconds), add the capers and olives; swirl and add the tomato; swirl it through the pan to combine into the oil and stop the cooking.
Stir it all together; adjust consistency if needed and turn off the heat.
METHOD FOR COOKING THE PASTA
Bring 2 quarts of water to a boil and add 1 tablespoons of kosher salt. Cook the pasta for the suggested time, tasting it at the lower number and cooking until the al dente meets your preference.
Using the sieve, remove the cooked pasta and add it to the sauce when it is ready.
COMPLETE THE DISH
Combine the cooked pasta and sauce together and toss together using a small amount of pasta water as needed to bring the dish together.
Transfer the pasta to the plate; tongs are fine to use to portion and serve the pasta.
*SUBSTITUTIONS
While the recipe was written with our Fresh Spaghetti in mind, our Squid Ink Casarecce or Fusilli can be used as well. If substituting dry pasta, you'll want to adjust the pasta weight to 6 ounces for the recipe as written. If you are preparing 4 full entree portions, just double every ingredient and use larger pots/pans.