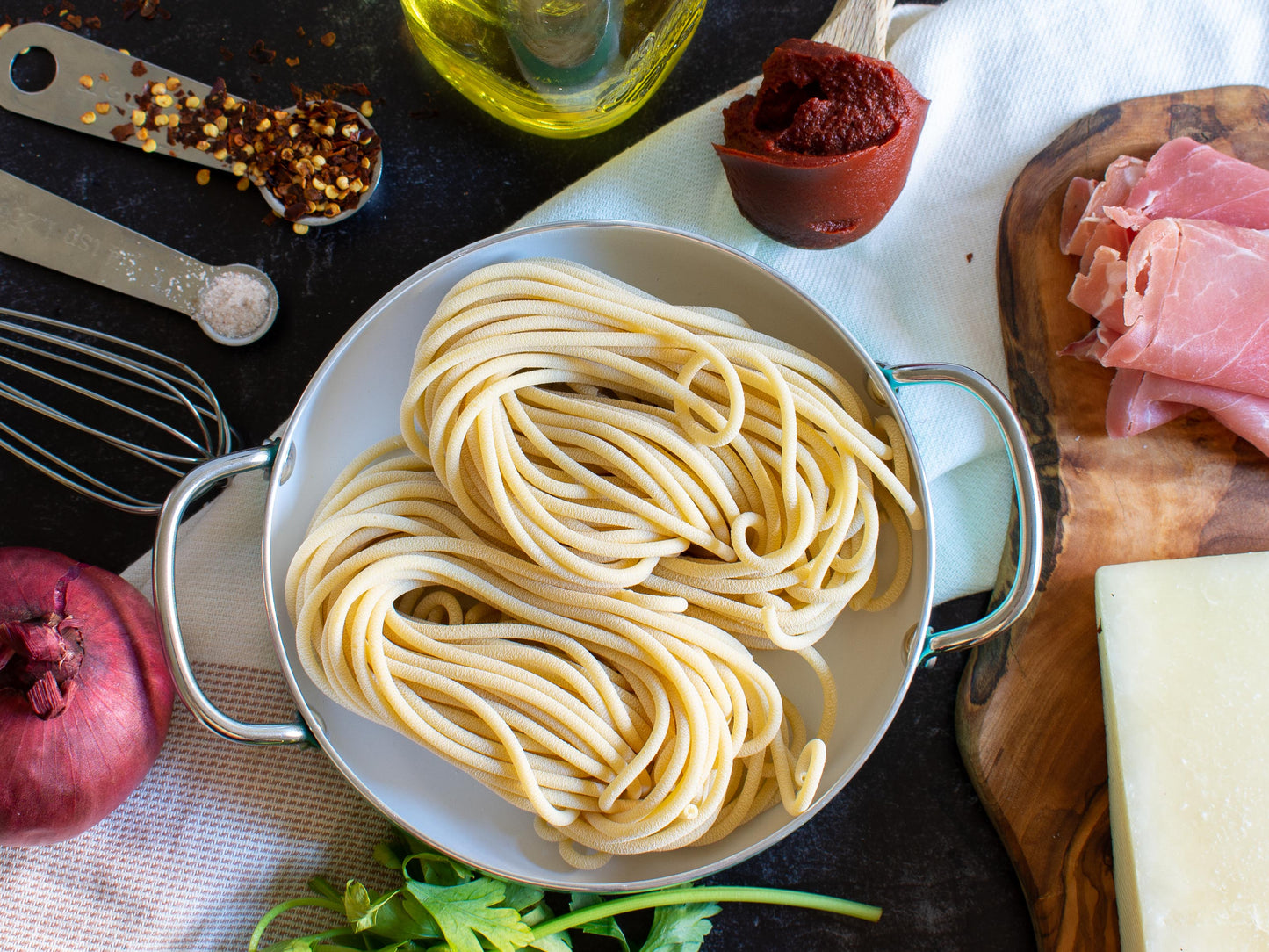 You can click here to jump directly to the recipe, though there are some words between here and there I hope you find useful.
SHOPPING / INGREDIENT LIST
Della Terra Bucatini* 

our dried 

Campanelle

 or 

Rigatoni

 

Extra virgin olive oil

Guanciale or pancetta

Red onion

Crushed red pepper flake

Tomato paste (Mutti "double concentrate" is my favorite)

Parmigiano-Reggiano

Pecorino Romano

Fresh flat-leaf style parsley

Kosher salt
THAT TIME WHEN A PASTA BLEW MY MIND
As a fresh-faced 19 year old, I was working for free as a stage (pronounced staj) in hopes of gaining a position at a new Roman-style Trattoria called Lupa in New York City. I had never been in a kitchen like it before, and I'm sure I looked like a deer caught in headlights most of the time. In spite of my "greenness", I persisted and returned as often as they would allow me, and I eventually landed a position as a prep cook.
Bucatini all'Amatriciana was the first pasta I ate at Lupa, and I was blown away. It would still be a couple of years working through the stations before I was finally taught how to make it. It was worth the wait, and this is a dish that I continue to make in a variety of settings. 
This dish is simple enough that it can be prepared in as much time as it takes the water to boil for a quick and tasty meal, but with its depth of flavor and brightness, it can confidently be a dish on an elegant tasting menu.
The ingredients matter, quality meals start with quality ingredients.
GUANCIALE vs. PANCETTA vs. BACON
All are good, but they will also influence the sauce differently, so here is my quick overview of the three.
Guanciale is the most traditional option and comes from a cut known as pork jowl. It is fatty and melts into the sauce with a deep flavor.

Pancetta comes from salt-cured pork belly and is air dried which provides a slightly salty, slightly fatty, porky flavor.

Bacon is salt-cured and smoked pork belly. Use thick sliced bacon if you want to add a hint of smokiness to the dish.
HERE'S THE SKINNY ON TOMATO PASTE
Tomato paste is concentrated tomato; it is an incredibly  versatile ingredient to have on hand in your pantry.

Mutti is my preferred choice, because of its bright tomato flavor and consistency that helps form into a sauce easily.

Standard tomato paste is a little trickier to use; err on the side of less if you use this version. Make sure to saute the paste in oil for 30 seconds to a couple of minutes to freshen the tomato flavor.
RECIPE FOR BUCATINI "ALL' AMATRICIANA"
Serves 2 entree portions or 4 side portions.
PANS AND UTENSILS
medium saute pan

large pot

long handle strainer/sieve

wooden spoon
INGREDIENTS
8 ounces Della Terra Bucatini* or 6 ounces Della Terra Rigatoni

1 tablespoons extra virgin olive oil

2 ounces guanciale or pancetta, cut into 1/4-inch wide strips

Half medium red onion, halved lengthwise with the ends trimmed and 3 center layers discarded, cut the remaining onion into 1/2-inch wide slices

 Crushed red pepper flake, to taste

2 to 3 tablespoons tomato paste

1/4 cup freshly grated Parmigiano Reggiano

1/4 cup freshly grated Pecorino Romano

1/5 cup flat-leaf parsley, roughly chopped
METHOD FOR THE SAUCE
In a medium skillet over medium-high heat, combine the onions and a splash of water. As soon as the water steams away, add the oil and guanciale, stirring frequently until the guanciale has lightly browned and the onion has softened. About 5 to 7 minutes.
Add the tomato paste along with the red pepper flakes and stir until fragrant. Make sure that you mix it into the pan while the other ingredients are still cooking and "toast" the tomato to stain the oil red and fully infuse the flavors.
Remove the pan from heat and add a couple splashes of pasta water while stirring together to form a sauce. 
METHOD FOR COOKING THE PASTA
Bring 2 quarts of water to a boil and add 1 tablespoons of kosher salt. Cook the pasta for the suggested time, tasting it at the lower number and cooking until the al dente meets your preference.
Using the sieve, remove the cooked pasta and add it to the sauce when it is ready.
COMPLETE THE DISH
Combine the cooked pasta and sauce along with a splash of pasta water over low-medium heat and stir to coat the pasta.
Stir in the parmesan, pecorino, and parsley; toss lightly. If the sauce seems tight, just add a splash or two of pasta water if needed to adjust the sauce consistency. It should coat the pasta well.
Transfer the pasta to the plate. Tongs are fine to use to portion and serve the pasta.
Sprinkle the remaining cheese as a garnish.
*SUBSTITUTIONS
While the recipe was written with our Fresh Bucatini, our dried Campanelle or Rigatoni can be used as well. If you are substituting dried pasta, you'll want to adjust the pasta weight to 6 ounces for the recipe as written. If you are preparing 4 full entree portions, just double every ingredient and use larger pots/pans.