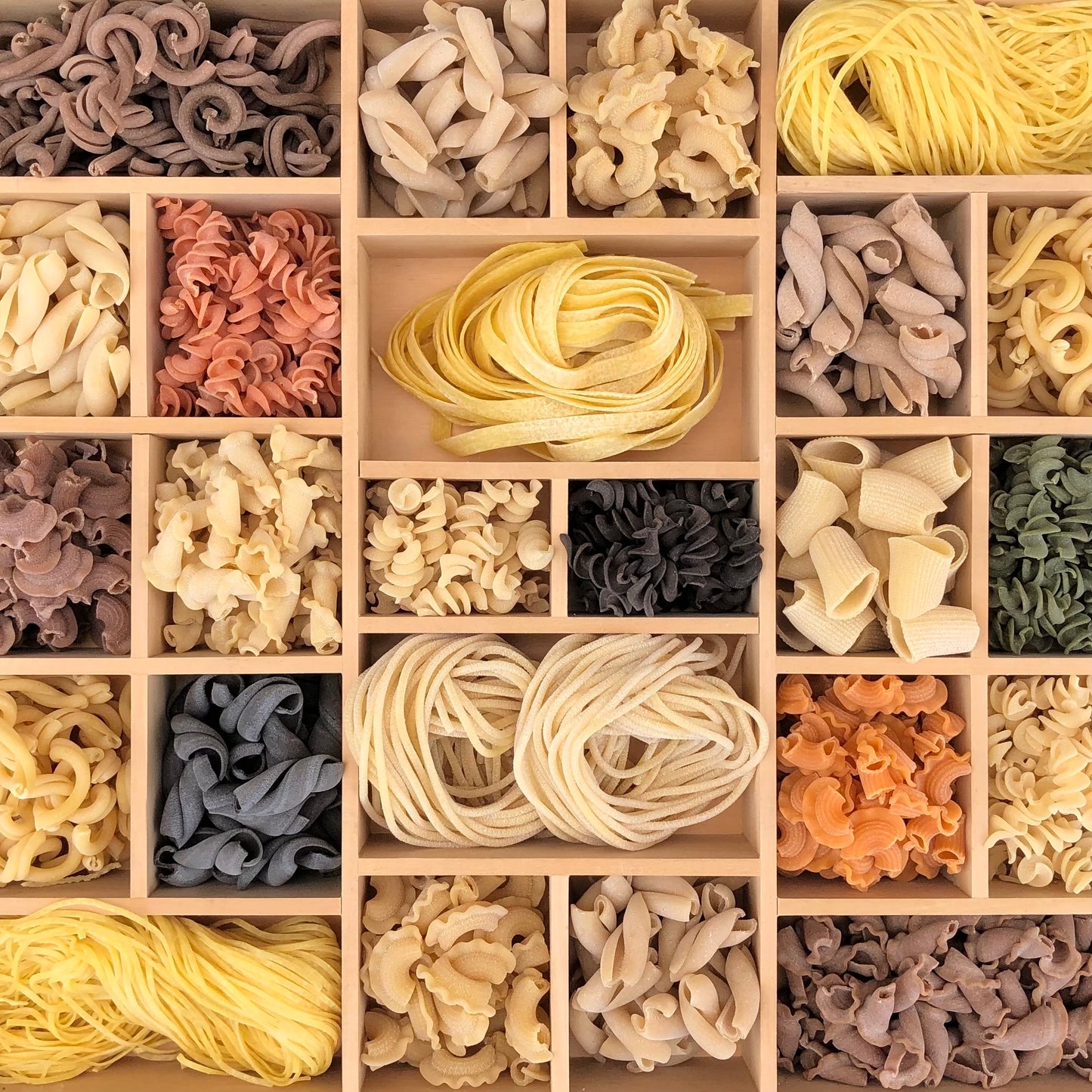 RIGATONI WITH SAUSAGE, WILTED GREENS, BLACK PEPPER AND PECORINO
This flavorful & robust classic Italian recipe is an easy to make, 30 minute recipe that is based on a dish I learned as a pasta cook at a Roman inspired Trattoria in NYC, Lupa.
NAVIGATION
Skip ahead with these links:
STORY TIME: MY FAVORITE DISH TO MAKE
This particular dish embodies everything that is delicious about a comforting bowl of pasta; flavor forward, unctuous & textural. As I take a moment to remember my line cook days as a pasta cook at the Lupa, a Roman style Trattoria in NYC, I'm taken back to the tight sizzle of the sausage as it's pressed into a hot saute pan. The dull grinding sound of the metal pan sliding back and forth on a metal flat top, the "ka-thunk" of tongs sliding to rest on the oven door. The spoon chopping into the sausage, making bite size morsels while watching the fat & juices release and bubble together. The intense sound of the wilted chard bubbling to life in the hot pan, halting the sausages pursuit of caramelized perfection; the fat, the juices, the butter all jumping to life in the pan creating a harmonic symphony of sight and sound. It fades as quickly as it started, now resting and waiting to be joined by the pasta. Tossed together, cheese and drizzle of olive oil; creamy, fragrant, spicy, bold, ready to savor, walking out of the kitchen door- attention returning to the other sauces, to the other pastas boiling, awaiting their turn. Of all the sauces, this one, I remember most vividly.
TIPS & TRICKS: TYPES OF GREENS FOR WILTING OR BRAISING
Let's chat about good greens to use for this type of dish, all of these or similar types can be used and substituted as you prefer.
SPINACH: The best choice for something colorful and nutritious and gets you right to the finished dish as it wilts very quickly.

Use spinach any time of year.

ARUGULA: Toss straight into the dish, though it won't wilt as much as the spinach. It provides a tasty pepperiness to the dish, and adds a pretty visual.

Best in spring and summer.

SWISS CHARD: The best choice for this dish, because you can cook the stems too. The leaf is tender and when it's completely braised, it still has an appealing subtle color to it. And it tastes really good too! You can make this ahead of time.

Braise the mature Swiss chard, it is best to use in autumn and winter.
Petite chard in spring and early summer, just chop and toss it into the sauce.

KALE: I prefer using Tuscan kale (Cavolo nero) as it is a tender type of kale. The regular ruffle green is fine too, but choose smaller leaf over larger leaf- it's less stringy. Kale tends to have a more pronounced bitter tone which is subdued as it braises, so it is a must braise for the best flavor. You can make this ahead of time.

Braise the mature kale, it is best used in autumn and winter.
Petite kale mix is almost always available in the lettuce section of a grocery store. Just chop and toss it into the sauce.
Braising greens has two main benefits, though there are a couple more. First, it allows you to turn a firm green into something soft and tender which allows it to become part of the sauce and more than just an add-in. Second, it helps keep the fridge clean, like that bunch of kale that got purchased and then not used? Not saying we should let the greens just hang out forever, but it's already a little wilty, finish the task and make it edible!
QUICK GREENS STYLE
Cut the greens into thinner pieces, and add a small pinch of salt, toss together and let sit for at least 5 to 10 minutes. Drain off any water before adding it to the sauce.
Toss into the sauce right when you add the pasta.
BRAISED GREENS STYLE
The only way to make this well, is to make enough at one time. There has to be enough in the pot to allow it to gently simmer for hours. Braising greens like kale or chard helps to remove the bitter flavor and tenderizes the greens, so it becomes a sauce and not just a part of the sauce.
Use stems from Swiss chard. Discard stems from kale.

Start with 3 to 4 cloves of rough chopped garlic, olive oil and crushed pepper. Heat over low heat until the garlic becomes tender but without added color.
Add about 4 quarts (by volume) worth of the greens and stir to wilt until all greens are added.
Be sure to use plenty of olive oil, and add water as needed to keep the mixture hydrated, keep it on a low heat setting.
Don't let it get dry and sizzle! 
Cook for 3 to 4 hours or until very soft and tender. Chop by hand when cool.
POTS, PANS & UTENSILS
For this recipe we suggest the following pieces of equipment. If you are doubling the recipe, just use bigger pots and/or pans.
10" saute pan
4 to 6 quart pot
2 quart pot if you are braising greens
long handle strainer/sieve
wooden spoon
Cutting board
Knife
Bowls for ingredients
Cheese grater
RECIPE FOR RIGATONI WITH ITALIAN SAUSAGE, GREENS AND PECORINO
Serves 2 entree portions or 4 side portions. To serve 4 entree portions, double the recipe and use larger pans.
INGREDIENTS
6 ounces Della Terra

 

Rigatoni 
1 Tablespoon extra virgin olive oil
6 ounces Italian Sausage, removed from the casing and pressed flat like a thin hamburger patty
1 cup fresh petite chard, kale or spinach, chopped
Black pepper to taste
1 Tablespoon butter
¼ cup Pecorino Romano, grated
¼ cup Parmigiano-Reggiano, grated
1-2 teaspoons olive oil to garnish
Kosher salt as needed
METHOD FOR PREPARING THE SAUCE
Heat the saute pan over medium heat. When the pan is hot (about 3 minutes), add a splash of olive oil, it should be close to smoking temperature and immediately add the sausage, gently pressing it into the pan. It should sizzle, do not move the sausage. Place the pan back onto the heat and allow it to cook on one side until it begins to become nicely browned. Remove from the heat and using a spoon begin to crumble the sausage.
The purpose of gently pressing the sausage into the pan is to create a "fond" from the browning sausage, this will help create a dynamic and deeply flavored sauce when it is deglazed with the pasta water and butter.
Add the greens along with a splash of pasta water, butter and the crushed pepper flake. Swirl together to form the sauce, set aside until the pasta is ready to add. 
METHOD FOR COOKING THE PASTA
Bring 2 quarts of water to a boil and add 1 tablespoon of kosher salt. Cook the pasta for the suggested time, tasting it at the lower number and cooking until the al dente meets your preference.
Using the sieve, remove the cooked pasta and add it to the sauce when it is ready.
COMPLETE THE DISH
Combine the cooked pasta and sauce along with an additional splash of pasta water over low-medium heat and stir to coat the pasta.
Stir in the parmesan and pecorino, toss lightly. If the sauce seems tight just add a splash or two of pasta water if needed to adjust the sauce consistency. It should coat the pasta well.
Drizzle a splash of the extra virgin olive oil, toss and using the wooden spoon, transfer the pasta to the plate.
Sprinkle the remaining cheese as a garnish.
SUBSTITUTIONS & ALTERNATIVES
PASTA: Use Della Terra Fusilli or our Strozzapreti as alternate shapes for this recipe.
VEGETARIAN: Omit the sausage, use extra greens.
VEGAN: Omit the sausage, butter and cheese. Use the braised version of the greens and vegan butter for a fulfilling creaminess. Add minced fresh herbs like rosemary and/or thyme.