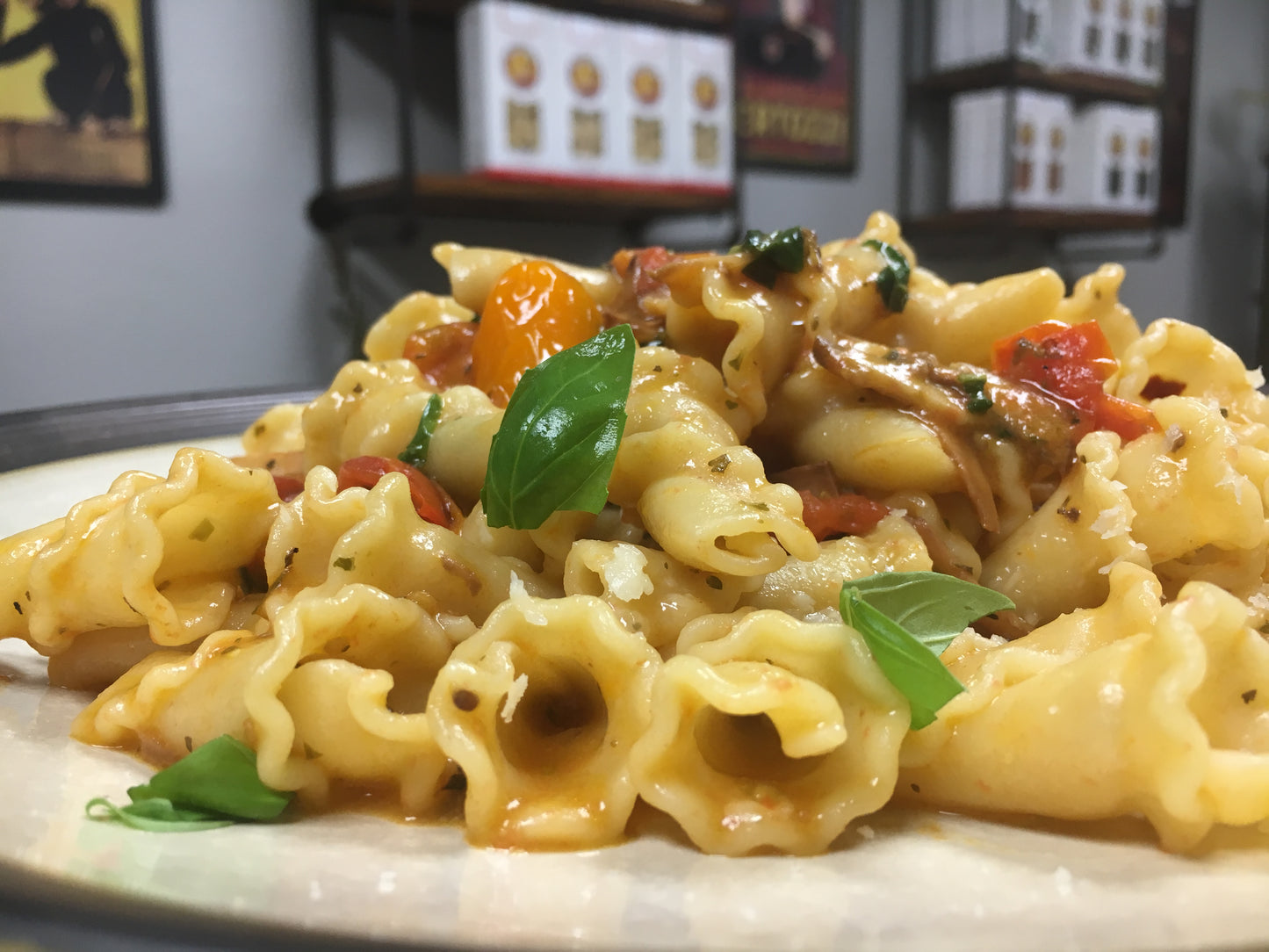 CAMPANELLE WITH TOMATOES, GARLIC AND OLIVE OIL
This super simple recipe is vibrant, fresh and flavorful. This 30 minute recipe is an improvised version of a classic called "aglio e olio con pomodoro" and will be an easy favorite go-to pasta.
NAVIGATION
Skip ahead with these links:
STORY TIME: VIBRANT AND FRESH
The flavor of summer in a bowl almost any time of year. This delicious recipe is easy and quick to make, perfect for those flavorful & wholesome meals you want without taking all night to cook.
The olive oil browned garlic has such a deep aroma that is perfect for anytime of year. The real trick to perfectly browning garlic is to start it in a room temperature pan and slowly bring the heat to achieve a gentle sizzle in the pan. Be sure to add a pinch of salt and stir the garlic to prevent any burning (which doesn't taste very good). As the garlic begins to brown, turn the heat down a touch and toast it to an aroma that you find pleasant! I really like to take it right to the edge between well toasted and almost burnt; it's there that the flavor becomes truly intense and dynamic.
It's true that fresh tomatoes are best during the summer from your local farmers market. Those will have the most flavor, thinnest skin (affects the texture in the finished sauce) and the simple fact that it's great to use in season produce. Cherry tomatoes can also be found at most food markets any time of year, which are fine, but feel free to substitute canned cherry tomatoes when making this recipe in colder months. 
TIPS & TRICKS: TYPES TOMATOES FOR A LIGHT POMODORO SAUCE
Tomatoes are as varied as they come, and honestly the amount of choices can be super overwhelming. This guide is a quick-list of tomatoes for a light tomato style sauce.
FRESH CHERRY STYLES: The best choice during the summer, hands down. They can be available year around, so this is what I look for. These will create a light sauce full of flavor. They won't make a marinara style, and that's the point: lightly sauced and full flavor, no heaviness.

In summer, get them at the farmers market, they'll be juicy, acidic and sweet.

If you're shopping at your grocer, look for tomatoes that feel a little heavier with a brighter color tone, those are ideal. Avoid under ripe cherry tomatoes, they are dry and often have thicker skin, which for a light sauce is not tasty.

CANNED TOMATOES: Look for peeled plum tomatoes in sauce. In general these are a good option, though not the best option.

Good texture for the sauce, to balance the flavor you'll need to add a pinch of sugar because they'll be on the acidic side.

SAN MARZANO STYLE: This is a solid choice, the tomatoes are often larger, and have a better flavor profile that is evenly balanced.

This is what I typically use for most cooking, they really are a solid pick.

SAN MARZANO DOP: The best choice for this dish, real DOP certified. They have the most balanced flavor and a great sauce texture too.

DOP stands for the Italian phrase Denominazione d' Origine Protetta ("protected designation of origin") which signifies that they were grown in the mineral rich volcanic soil from Mount Vesuvius.
POTS, PANS & UTENSILS
For this recipe we suggest the following pieces of equipment. If you are doubling the recipe, just use bigger pots and/or pans.
10" saute pan

4 to 6 quart pot

Long handle strainer/sieve

Wooden spoon

Cutting board

Knife

Bowls for ingredients

Cheese grater
RECIPE FOR CAMPANELLE WITH TOMATOES, GARLIC AND OLIVE OIL
Serves 2 entree portions or 4 side portions. To serve 4 entree portions, double the recipe and use larger pans.
INGREDIENTS
6 ounces

Della Terra Campanelle

1 tablespoon extra-virgin olive oil

2 cloves garlic, sliced

1 filet of anchovy (optional)

Pinch of crushed pepper flake

Pinch of dried oregano

½ pint of cherry tomatoes, sliced in half

Or 8 ounces San Marzano tomatoes

Kosher salt, to taste

1-2 teaspoon of butter

4 to 5 leaves of fresh basil, cut or torn

Freshly grated Parmesan if desired
METHOD FOR PREPARING THE SAUCE
In a fry pan, add 1 tablespoon of olive oil and garlic over med-low heat.
Toast the garlic until very golden brown and aromatic and add the crushed pepper and oregano and allow 30 seconds to infuse the oil.
Add the tomatoes along with a pinch of salt. When the tomatoes begin to soften turn the heat to a low-med and allow to gently simmer and smash the tomatoes with a wooden spoon. Add a splash of pasta water to help form the sauce if the tomatoes are too dry.
METHOD FOR COOKING THE PASTA
Bring 2 quarts of water to a boil and add 1 tablespoon of kosher salt. Cook the pasta for the suggested time, tasting it at the lower number and cooking until the al dente meets your preference.
Using the sieve, remove the cooked pasta and add it to the sauce when it is ready.
COMPLETE THE DISH
Combine the cooked pasta and sauce along with an additional splash of pasta water over low-medium heat and stir to coat the pasta.
Drizzle a splash of the extra virgin olive oil, toss in the remaining basil and using the wooden spoon, transfer the pasta to the plate.
Sprinkle the additional Parmigiano Reggiano as a garnish.
SUBSTITUTIONS & ALTERNATIVES
CLASSIC AGLIO E OLIO CON POMODORO: Omit the butter, parmesan, oregano and basil. Use half of the tomato and make sure you add the anchovy.
PASTA: Use Della Terra Fusilli or our Strozzapreti as alternate shapes for this recipe.
VEGETARIAN: Omit the anchovy.
VEGAN: Omit the butter, parmesan and anchovy.