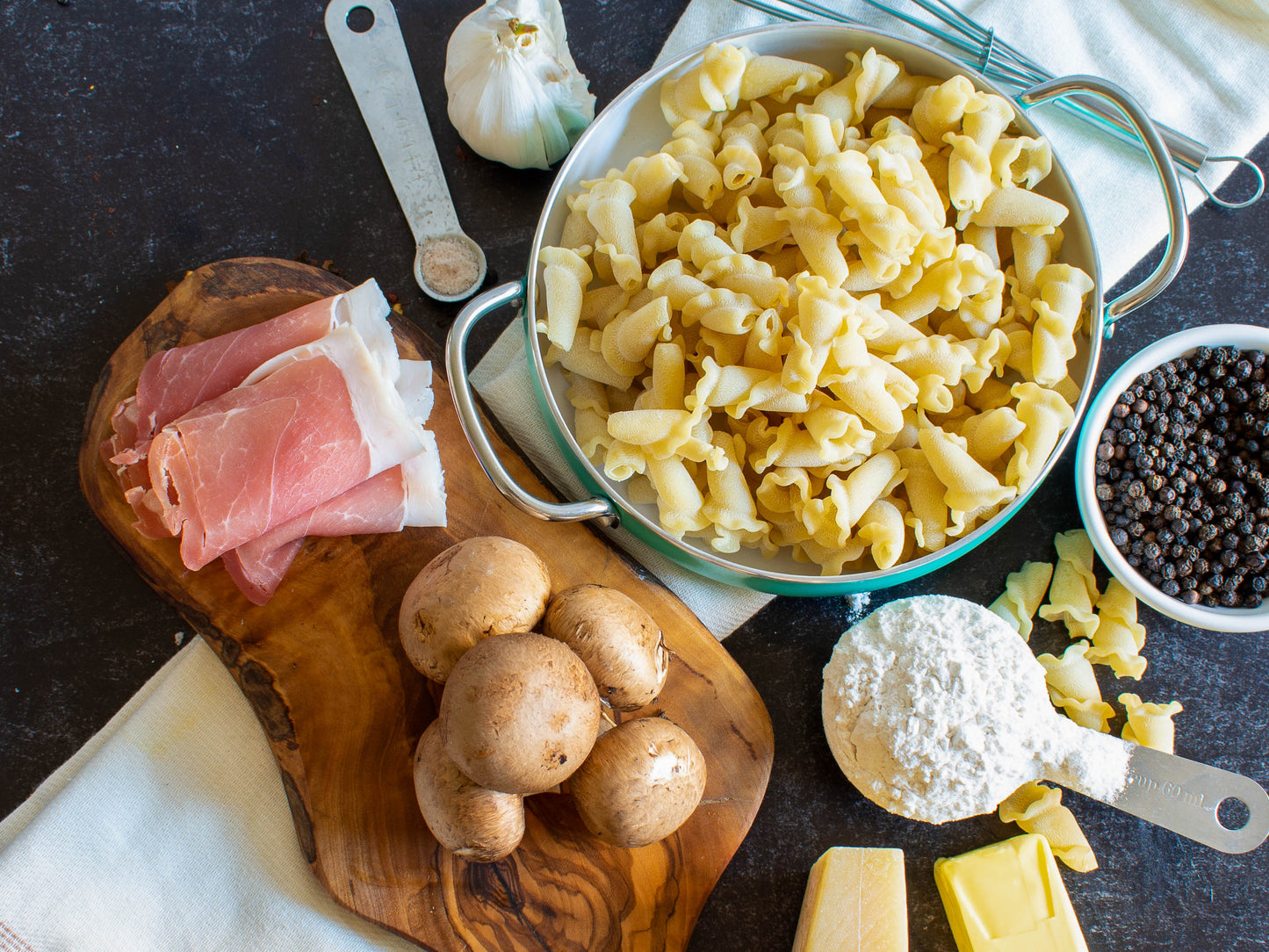 You can click here to jump directly to the recipe, though there are some words between here and there I hope you find useful.
SHOPPING / INGREDIENT LIST
Della Terra Fresh Campanelle or 

Whole Wheat 

Campanelle

 or 

Creste di Gallo
Extra virgin olive oil
Pancetta
Crimini mushrooms
Garlic
Fresh thyme
Black pepper
Butter
AP flour
Whole milk
Parmesan
Kosher salt
MUSHROOMS AND B
É

CHAMEL   

When I think about comforting flavors, my mind sometimes drifts towards childhood memories of cream of mushroom soup, egg noodles, and chicken. While it isn't my intent to recreate that dish, there is something comforting about those flavors.

Béchamel sauce is a wonderful sauce that is fairly easy to make and is endlessly customizable. It has a short list of ingredients but requires some technique and attention at critical moments to yield a velvety smooth texture and lusciousness. While I learned how to make this in restaurants, there are variations to make it to your preference. Here are a few tips I think are important to keep in mind:
Always use equal parts of butter to all-purpose flour; melt the butter first and then stir in the flour.
Take your time to "cook" the flour in the butter and stir every so often. The "cooked" flour should have a pleasant aroma, like freshly baked bread with butter.
You can control how thick the sauce is easily. The recipe I wrote for bechamel is based on my preference, which allows for a little cooking and reducing later with the rest of the sauce.

If you prefer a thicker sauce, add less milk.
If you prefer a thinner sauce, add a little more milk.

Don't rush adding in the milk; do it incrementally and fully combine with each addition. This helps yield a smoother sauce without clumps.
I love the texture of shiitake mushrooms, and they also have a bolder flavor than a regular button or crimini. Mushrooms are all somewhat interchangeable, so it's more about what you want to use as it will have little impact on the steps of the recipe.
FEEL LIKE CHICKEN TONIGHT?
Sometimes I really want some chicken to pair with this type of recipe, so here's what I do when that fancy strikes. Season bone-in, skin-on chicken thighs with salt, pepper, and dried herbs, and cook them in a non-stick skillet skin side down over low heat. Let the skin slowly sizzle and crackle. Turn them over after a while (when nice and crispy), and add fresh thyme and butter, and finish in the oven until they are fully cooked.
RECIPE FOR CAMPANELLE WITH B
É

CHAMEL, PANCETTA & MUSHROOMS

Serves 2 entree portions or 4 side portions.
PANS AND UTENSILS
Medium saute pan
Pot for cooking the pasta
Small saucepan
Small whisk
Long handle strainer/sieve
Wooden spoon
INGREDIENTS
8 ounces fresh Della Terra Campanelle* or 6 ounces Della Terra Creste di Gallo
1 tablespoon extra virgin olive oil
2 to 3 ounces Pancetta
1 cup crimini mushrooms with stems trimmed and sliced
2 cloves garlic, minced
a sprig of fresh thyme
5 or 6 cracks of black pepper from a pepper mill
2 tablespoons butter
1 tablespoon AP flour
1 cup whole milk, room temperature
1/3 cup parmesan, grated
Kosher salt
METHOD FOR THE B
É

CHAMEL

The béchamel is optional; feel free to skip it altogether. If you do skip it, use a spoonful of butter and a splash of pasta water in its place when making the sauce.

In a small saucepan, melt the butter over low heat, and add the flour and mix together with the whisk. Keep whisking over low heat until the paste cooks and bubbles, about 2 to 3 minutes.

Add a splash of milk and whisk together quickly to keep the pan hot. Repeat this step until all the milk is added. The "trick" is to keep the pot hot and quickly whisk small amounts of the milk into the base at a time.

Bring the mix to a simmer while whisking; simmer for about 1 to 2 minutes. Turn off the heat.

Whisk in 1/4 cup parmesan and salt to taste. Cover and set aside.
METHOD FOR THE SAUCE
In a medium-size saute pan, combine the oil and pancetta over medium/high heat.
As soon as the pancetta starts to brown, add the mushrooms. Quickly stir and let sizzle in the pan.
When the mushrooms have become slightly golden, add 1 tablespoon of the butter along with the garlic and thyme. Stir together and lower the heat to low. Cook for about 2 to 3 minutes or until the garlic has become translucent.
Turn the heat off and add ½ cup of the bechamel while stirring together to form the sauce and then remove and discard the thyme sprigs.
METHOD FOR COOKING THE PASTA
Bring 2 quarts of water to a boil and add 1 tablespoons of kosher salt. Cook the pasta for the suggested time, tasting it at the lower number and cooking until the al dente meets your preference.
Using the sieve, remove the cooked pasta and add it to the sauce when it is ready.
COMPLETE THE DISH
Toss the cooked pasta with the sauce to combine; adjust consistency with pasta water if needed.
Toss or stir the remaining parmesan into the pan with the pasta.
Plate the pasta and drizzle the remaining béchamel to garnish.
*SUBSTITUTIONS
While the recipe was written with our Fresh Campanelle in mind, our Whole Wheat Campanelle pasta or Creste di Gallo pasta are wonderful alternatives. If you are substituting dried pasta, you'll want to adjust the pasta weight to 6 ounces for the recipe as written. If you are preparing 4 full entree portions just double every ingredient and use larger pots/pans.